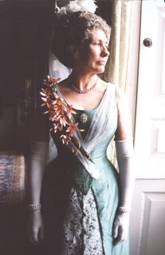 I offer a bespoke service making period clothing and corsetry for the modern woman.
All my garments are made to measure, so ensuring you receive exactly what you need to suit your individual requirements. If you like the garments shown on this website and would like to discuss a commission please email me.
Visit The Gallery Page for photographs of my work and information about historical clothing.
About The Staymaker
I originally trained as a modern dressmaker and pattern cutter. However, I was never interested in the theatrical approach to historic costume and started to visit museum reserve collections to try and learn authentic period techniques. My work has often been used where this distinction has been important – clothing which can be seen close up and handled by visitors, made as closely as possible in the original style.
Most of my work is based on museum originals researched in a variety of museums over the last twenty two years. Each year I add new research and garments to my archives. Some of the items I research I have copied and these can be seen on this site. Copies of original garments from museum collections are identified by the museum name and accession number listed with them.
Teaching
Over the last ten years I have taught sewing schools and weekend courses at venues around Britain, including National Trust properties and museums. I have experience in teaching a wide range of students from absolute sewing beginners to re-enactors, period dancers, bridal makers, sewing teachers and degree lecturers. Short courses have often been linked to exhibitions or provided as part of adult learning programs.
Gallery Sessions
I am often asked to give gallery sessions in museums or historic properties showing replica clothing both as handling items and as clothing being worn. Clothing gives an immediate link to people in another period and engages old and young, often stimulating discussions and memory sharing.
Lectures
A range of lectures are offered based around a living model wearing my replica clothing. These are suitable for a general or more specialist audience with the information being adapted accordingly. Giving lectures has taken me around Britain, speaking for NADFAS, costume societies, museum, genealogical and WI groups.
Leading Volunteer Sewing Groups
My skills as a pattern cutter and researcher have also been used in organizing and leading volunteer sewing groups to create wearable historic clothing for use in education and visitor services.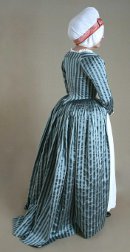 Please note that I only supply completed garments and do not provide patterns for home sewing.
Information about venues holding my workshops can be found on the workshops page.
Please contact me if you wish to enquire about lectures I offer.
©
Ian Chipperfield [2015] (except where otherwise indicated). This website, and the photographs and text on it, are copyright works under the UK Copyright, Designs and Patents Act 1988. They are protected internationally under the Berne Convention. They may not be reproduced in any form or incorporated in any other website or other electronic medium without the written permission of the copyright owner. The moral rights under Sections 77-89 of the UK Copyright, Designs and Patents Act 1988 of the author(s) of the works in this website are hereby asserted.