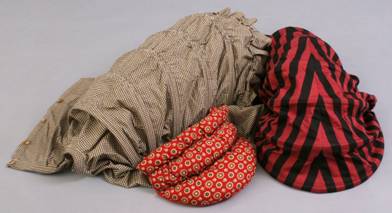 We are led to believe that Victorian underwear was always white and virtuous but often nothing could be further from the truth.
Underwear that was to be washed needed to be white so that the colour did not run or fade but other items like corsets, bustles and crinolines were often boldly colourful.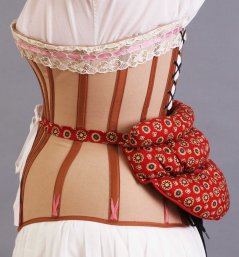 c. 1870 Down filled bustle pad.
Accession Number: 57.951
Norwich Costume & Textile
Research Centre, Norfolk

This bustle is typical of the sort of bustle made at home during the late nineteenth century and might have been made from a pattern supplied from a contemporary ladies magazine.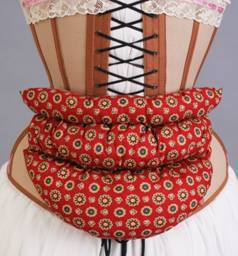 This pad gives the fashionable bustle shape of the early 1870's, springing out and up from the waist and was probably worn for day wear.
Unfortunately although the maker was competent with a needle, she was not very skilled and the original pad is very lopsided. However, its treble puffs and bright Turkey red paisley fabric still have a very definite charm.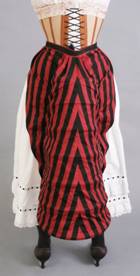 Many cage bustles survive in museum collections. Individually they show a lot of variety in style, fabric, trimmings and boning patterns, although there seems to have been a very definite choice of large or small. Colours, stripes or checks were most popular although there are many home made bustles surviving in plain fabrics.
Luton Museum holds a very striking example in black and golden yellow striped cotton, which rather gives the impression of a giant wasps tail!
I assembled this bustle in class whilst teaching a bustle construction workshop for the National Trust at Hughenden Manor. Unfortunately I could not find gold and black stripes so settled for red and black following an example in The Kyoto Costume Institute.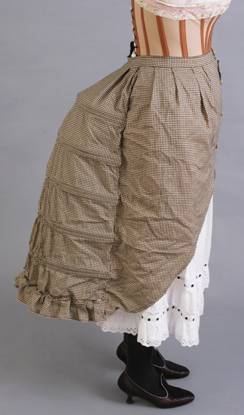 Accession number: KL. 572.990 CB
King's Lynn Museum, Norfolk

This bustle is in a style known as a jupon tournure, which indicates that it is made as part of a petticoat. Taking a pattern from the original was quite difficult since it has seen a lot of abuse over the years and is rather battered.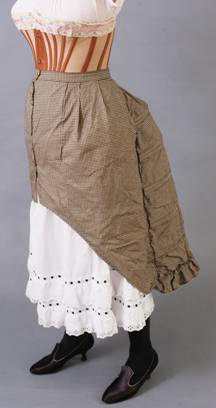 However when made up, this bustle has a very gentle shape which suggest that it could have been made for day wear in the later 1880's when the bustle was in decline.
The owner was possibly concerned about this bustle being able to support a heavy skirt since it is stiffened with two bones side by side for each hoop making it very firm indeed.