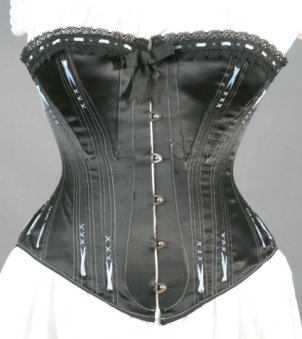 Corset - c. 1880's -1890's
Accession Number: 59/56(2)
Tunbridge Wells Museum

The original of this corset is made in black cotton sateen with a white cotton lining. All stitching is in white, with the ends of the bones flossed in a bright blue thread. A trim of black lace with pale blue silk ribbon decorates the top edge and at the centre front there is a bow of grosgrain ribbon.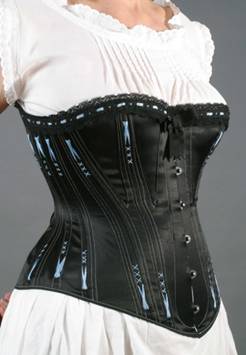 My replica was made in black satin coutil and boned with 6 mm and 11 mm spiral steels. Each bone was flanked with cording as on the original. This gives added support to the figure and also acts as a decorative feature.
It is often thought that to reduce the waist the corset has to be heavily boned. This corset is a perfect example to disprove this theory since there are only six bones per half body and yet reduces the waist by 5 cm/2". What reduction the original corset gave is unknown.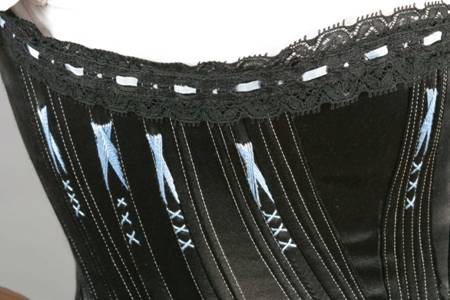 Certainly the factory girls who would have machined this type of corset are due a great deal of respect. The corset is lined and has two bust gussets each side. To manipulate two layers of fabric, with four cut edges and to sew them with only one row of stitching, catching all layers is a feat of impressive machining.
The flossing on the original corset was in a vivid yet pale sky blue. The contrast is quite shocking but on the figure the two colours compliment each other very well. Sadly the blue thread has washed out on the photos and is not as vivid as in real life.