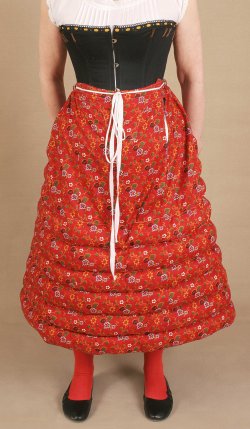 Eiderdown petticoats were in use from the early 1840s to the late 1880s as a means of providing supple support to dresses and for warmth.
Eider down is actually the feathers from the breast of the Eider duck and was imported in quantities from Russia since this was considered the best quality.
Many petticoats like this were made in factories although in the 1860s the Englishwoman's Domestic Magazine does give hints on making your own at home and recommends using old silk skirts which are no longer good enough to be worn as skirts.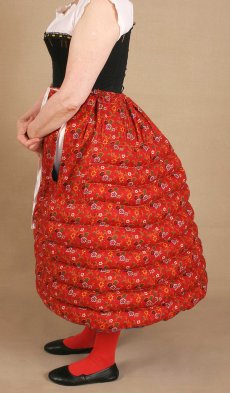 Eiderdown Petticoat c. 1855 – 1870
Accession Number: 43.11
Worthing Museum
This eiderdown petticoat is the first that I made. The original is made of a sky blue top fabric with vertical stripes of golden/beige patterned with red coral-like branches and 'Paisley pattern' shapes in several colours. It has a piped hem and was lined in bright red.
Since I could not find any patterned cotton remotely resembling the original I opted to change the colours and use blue for the lining and red for the top fabric.
Red cotton printed with patterns in 'hot' colours such as golden yellow, bright blue, green and black were often used for making eiderdown petticoats although blue or green petticoats do survive as well. The original of this one may have been altered by the owner and the left front opening made (visible in the image above). Now it fastens with hooks and loops at the opening as well as double drawstrings through the waistband drawing up the fullness to fit the wearer's waist.
Here may be seen the 'T' shaped yoke which is applied to the inside and outside of the petticoat, the double drawstrings and side front opening.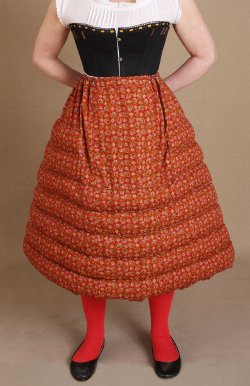 Eiderdown Petticoat c. 1850s
Accession Number: SNO.183
Charles Wade Collection,
National Trust
This petticoat is a little earlier in date than that at Worthing with the fullness being pushed to the sides to support the wide bell or fan shaped skirts of the 1850s. Sadly the original is in a very bad condition, the bright red fabric soiled, the waistband ripped through and horizontal tucks taken across the back altering the original shape. My replica allows it to be seen as it was when new.
Unlike the Worthing example, this one has no placket opening but just has crossed drawstrings in the waistband to draw in the fullness of the petticoat. This was a common method of fastening for eiderdown petticoats and allowed a range of waist sizes to be fitted by one size.
Although an attractive garment in its own right the petticoat only reveals its real shape and fulfils its function when a layer or two of cotton petticoats are added over the top as shown here.